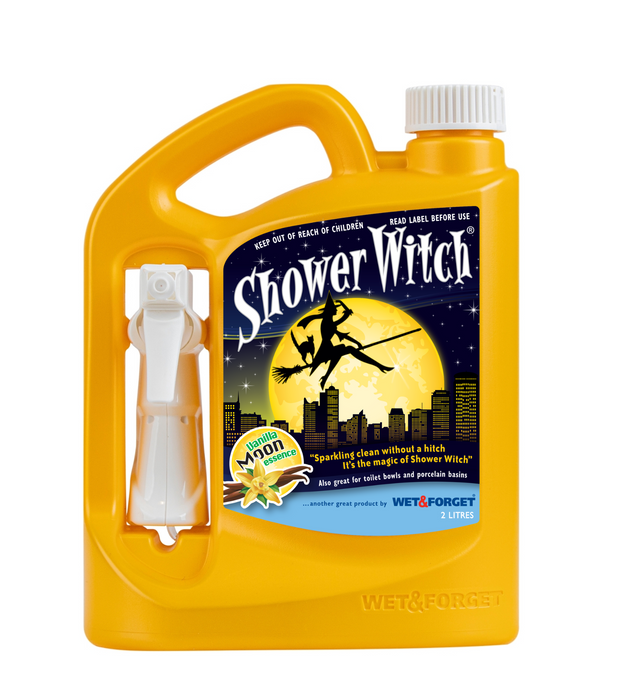 Shower Witch 2L - Bathroom & Shower Cleaner
Shower Witch is a gentle, easy to use, bleach free shower cleaner that is perfect for removing soap scum and grime from your shower. It is also great as a general bathroom cleaner.
How it works
Shower Witch works by using non-ionic and cationic surfactants, a combination of biodegradable detergents to break down soap scum build up on bathroom surfaces. Shower Witch needs to be applied to a wet surface, such as after showering, left overnight, and rinsed off the next day. Shower Witch will give you the best results if used on a weekly basis.
Features
Shower Witch:
Comes in a 2L ready-to-use bottle.
Is bleach free.
Removes soap scum and shower grime.
Can be used on a range of bathroom surfaces.
Is a convenient, ready-to-use formula.
Has an extendable trigger, with a 90cm hose.
Has an adjustable nozzle with two spray settings.
Requires no scrubbing.
No strong or irritating fumes.
Has a fresh vanilla fragrance.
Instructions
How to apply shower Witch
Ensure that the shower and shower screen are wet before applying.
Set the nozzle on the trigger to the 'fan' spray setting, and mist the shower screen and surrounds with the product.
Ensure that the entire surface has been completely covered with the product.
Leave the product on the surface overnight and rinse off the next day.
If the surface has a heavy build-up then it would be best to give it a good wipe down before thoroughly rinsing the product residue off the treated surface.
For all other surfaces, spray on and then wipe off.
To attach the trigger, remove the sticker and flip open the cap. The hose is coiled inside the sprayer, so pull it out to its full extension of approx 90cm. Firmly insert the hose tip into the bottle. Once the trigger is connected, make sure the nozzle is set to the "OFF" position after use, and transport the product upright as the product may leak through the breather hole.
For information on how to use the trigger nozzle, see the FAQs.
Important
Please note:
Shower Witch will not remove any hard mineral deposits (water spotting).
The shower base may be slippery after application.
Rinse off thoroughly before showering.
Always do a test patch if you have dark tiles and hard water.
Always do a test patch for marble and stone to check compatibility.
Shower Witch will not remove mould in silicon or really dark mould in grout.
Learn more from our Blog posts about Wet & Forget
Do you need Shower Witch or Wet & Forget Indoor to clean your shower and bathroom? Are you unsure which one to use? Listed below are the main differences between Shower Witch and Wet & Forget Indoor. Shower Witch = Soap...

Read now

Identifying soap scum in your shower, may not be as simple as you think. Soap scum can appear as a cloudy substance on the glass, quite typically it is quite heavy on the bottom of the glass area. Shower...

Read now

Did you know there are many more uses for Shower Witch, it's not just for cleaning your shower and bathroom! Shower Witch is one of our absolute best sellers. Many of our customers thank us for such an amazing, easy...

Read now
Surfaces
Shower Witch can be used with great success on the following surfaces:
Acrylic
Baths
Chrome
Enamel
Plastic
Porcelain tiles
Shower glass
Showers
Stainless steel
Stone
Vanity basins
Vitreous china
And more!
Frequently Asked Questions
Will Shower Witch remove mould from silicon or grouting?

Shower Witch will not remove mould in silicon or grouting.

Do you apply Shower Witch to a wet or dry shower?

Shower Witch must be applied to a wet shower surface.

Can Shower Witch be used on other surfaces?

Yes you can! On other surfaces just spray the area and then wipe off. Shower Witch will also help to remove grease build up on surfaces such as rangehood filters, BBQ hoods and fresh oil spills.

What is the active ingredient in Shower Witch?

Non-Ionic and Cationic Surfactants i.e. a combination of specialised detergents.

How often should I apply Shower Witch?

Just whenever you see that soap scum and body fats are building up. That might be weekly or fortnightly, depending on what type of soap you use and how many people are using the shower.

Is Shower Witch biodegradable?

Is Shower Witch OK in septic tanks/bio sewage systems?

It sure is! It biodegrades and will not affect or interfere with the aerobic or anaerobic bacteria that break down the waste.

How long should I leave Shower Witch on the shower surface?

Leaving the product on overnight is best, however you can leave it on for up to 24 hours.

If I don't have a shower head to rinse the product off - what do I do?

Do what you normally do. Either use a bucket of water to rinse it down or use a cloth while you are in the shower to wipe the surfaces down. Firstly remove most of the residue on the base to avoid slipping!

How do I set-up the trigger sprayer?

The trigger nozzle has two spray settings: fan spray and jet spray. To change between them, twist the nozzle of the trigger sprayer to the JET or FAN setting. Always ensure that the nozzle is set to OFF when not being used to avoid leakages.

How to set up the Shower Witch trigger nozzle

1. Remove sticker. Open flip cap.

2. Hose is coiled inside sprayer. Pull out and fully extend (approx 90cm).

3. Firmly insert hose tip until a click is heard

Note: Once sprayer is connected, transport upright as product may leak through the cap's breather hole.
Testimonials
I purchased Shower Witch last week. I used it this morning and after 4 hours decided to hose it off and see how things looked! Amazing is the only word to describe how our old fibreglass shower looks! I wish I had taken before and after photos so I could show you the difference. We are on spring water which stains badly. I have tried EVERY product on the market, bought fancy scrubbers and used lots of elbow grease but this has worked without any effort. I will be back to buy some more and will recommend it to my friends.
Found another use for Showerwitch. I have a new fangled washing machine with a centre column that filled with immovable gunk. Three overnights with showerwitch and its almost like new. Hurrah!
Hi. My shower had soap & gunge build up on it when I bought the property. I had tried for 4 years to remove it with a variety of shower cleaners but shower witch took it off in 4 days. Wow! What a difference. It sparkles! Thanks for a great product.
I was cleaning my kitchen yesterday. Remembered your ad about shower witch around the barbeque. Used it on top of the pantry where it was all greasy, FANTASTIC 5 minutes wiped it off , then I got enthused and used it on the range hood, unbelievable results. Sprayed on stainless steel benchtop wiped off, wiped over with soapy water and polished with a stainless cloth. Grimey walls no problem. Add that to your list of uses for shower witch.
It is el supremo at dissolving kitchen grease. Even stuff jif just gets bogged down in, gets dissolved in an instant. I was amazed at even on walls a light spray and wipe with a handy towel already damp with shower witch did the trick. We had some baskets that sit on top of the pantry ( for recipe books) that were pretty grimy, so I took them outside to them a good soaking. After a 10 min hose off , they were like new. I'm amazed.
Well guys you are going to love this. I have found a new use for shower witch, the worst job in the world...venetian blinds, I have the plastic ones. After doing half the job and wishing I had never started I thought there had to be an easier way. So thought I would try shower witch. I couldn't believe my eyes the grime was disappearing before my eyes. I hosed them first then sprayed them and hung them in the shade for 1/2 hour, then hosed them again ...well my god! They came up cleaner than the ones I did with a scourer!! Unbelievable. You need to market the same stuff but as a venetian blind cleaner.
Thanks Guys. Hope this tip is useful.
Wow, this would have to be the most amazing product I have ever come across. I hate cleaning to the extent that my mother in law gave me some shower witch as a gift (big hint!!). I sprayed it in my shower/bath and left it. For the rest of the day I was wondering what the nice smell in the bathroom was. I thought the kids had been playing with some soap or something. It was only later when I looked at the shower and thought, I don't remember cleaning that, that I remembered I had sprayed it with Shower Witch. Awesome!!!