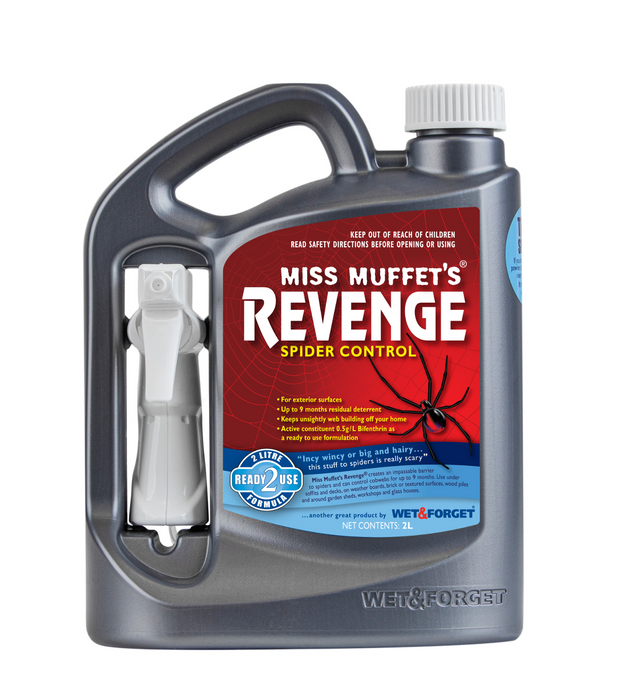 Miss Muffet's Revenge 2L - Exterior Spider Repellent
Miss Muffet's Revenge is a fast-acting exterior spider repellent that helps guard your home from creepy crawlies for up to 9 months. Spiders are good for the environment as they help control unwanted insects, however we don't always want them in or around our homes. Miss Muffet's Revenge creates an impassable barrier to stop spiders in their tracks.
How it works
Miss Muffet's Revenge uses an innovative sprayer designed to deliver more product than the average sprayer so that you can treat areas quicker and easier. Use it to lay a barrier around exterior access points where spiders are likely to get into your home, it will instantly repel them. Avoid spraying directly onto spiders, however it can be used on their webs. 
Scroll down for more information.
Features
Miss Muffet's Revenge:
Comes in a 2L, ready-to-use bottle
Repels spiders for up to 9 months
Helps control spider webs
Is a convenient, ready-to-use formula
Precision trigger for hard to reach areas
No ladder required – the jet spray setting reaches up to 4 metres
Especially formulated for spiders
No need for exterminators or pest control
Instructions
How to apply Miss Muffet's Revenge
To apply the product to exterior surfaces, apply a 30cm band of product along the exterior perimeter of your home. Alternatively, you can also spray it directly onto spider webs.
Spray until slightly wet, without soaking.
For best results, apply the product on a clear, dry day when wind and rain are not expected. Leave the application for one week, then come back and clean up the spider webs.
Miss Muffet's trigger has a dual spray function, with a 'spray' and a 'jet' setting.
To attach the trigger, remove the sticker and flip open the cap. The hose is coiled inside the sprayer, so pull it out to its full extension of approx 90cm. Firmly insert the hose tip into the bottle. Once the trigger is connected, make sure the nozzle is set to the "OFF" position after use, and transport the product upright as the product may leak through the breather hole.
For information on how to use the trigger nozzle, see the FAQs.
Important
Please note:
Do not apply near fish ponds or allow any spray to get onto pets, children, or food. Do not spray near bees.
Apply to exterior surfaces only. Do not use inside.
Avoid spraying directly onto spiders as Miss Muffet's will kill them.
Learn more from our Blog posts about Wet & Forget
As freaky looking as we may find them, spiders are actually fantastic for the environment - they keep all the other creepy crawlies and bugs in check! However, we can all agree that they are hardly something that we would...

Read now
Surfaces
Depending on your property and the types of spiders you encounter, the following surfaces may be the most common hideaways for spiders:
Balconies
Building foundations
Eaves
Gates and fences
Light fittings
Porches
Shutters
Window corners
Window ledges
Wood piles
And other crevice-like hiding spots
Frequently Asked Questions
What are the ingredients in Miss Muffet's Revenge?

The active ingredient in Miss Muffet's Revenge is Bifenthrin, however the formula has been designed to specifically target spiders most effectively.

Is Miss Muffet's Revenge able to be used indoors?

Miss Muffet's cannot be used indoors as it is for exterior use only.

What does it mean when it says the trigger has a 4m reach?

The applicator trigger nozzle has a setting that produces a 'JET' stream of product that will reach up to 4m in height/length in still conditions, i.e. no wind. The cord itself is only 90cm long. To target larger spaces, the trigger nozzle also has a 'FAN' spray setting.

Is Miss Muffet's Revenge harmful to pets, plants or people?

Avoid standing in areas that may result in product overspray getting onto yourself or your plants and pets. Always read bottle instructions carefully as with all products. Be mindful of where you use Miss Muffet's, as it is highly toxic to bees and fish.

Should I do a test spray?

We recommend always doing a test spray to ensure that no staining occurs on the surface you are treating.

Does Miss Muffet's Revenge have a smell?

Miss Muffet's has a slight smell, however should not be breathed in.

What is the coverage area for Miss Muffet's Revenge?

The 2L bottle will cover approximately 40sq metres.

What is the shelf life of Miss Muffet's Revenge?

Is Miss Muffet's Revenge safe to use on windows?

Miss Muffet's is water soluble, so use a wet cloth to remove excess from windows. However, if you have dark, oxidised, powder coated aluminium or clear plastic sheeting, it may leave an oily mark. Do a test patch before applying the product.

Will Miss Muffet's Revenge wash off with Rain?

Miss Muffet's is water soluble and will therefore wash off when it rains. However, as spiders are generally found in more secluded and protected areas, most of your treated surfaces are likely to be out of the way of major weathering. In areas where there is no weathering, there will be more long-term control.

Will overspray from Miss Muffet's Revenge affect water tanks?

Overspray from Miss Muffet's will not affect roof or tank water as the overspray is very minimal.

Will Miss Muffet's Revenge leave a resin or stickiness after spraying?

Miss Muffet's will only leave a noticeable residue if too much product is applied. Always do a test spray to ensue that the surfaces you are treating will not stain.

How do I set-up the trigger sprayer?

The trigger nozzle has two spray settings: fan spray and jet spray. To change between them, twist the nozzle of the trigger sprayer to the JET or FAN setting. Always ensure that the nozzle is set to OFF when not being used to avoid leakages.

How to set up the Miss Muffet's Revenge trigger nozzle

1. Remove sticker. Open flip cap.

2. Hose is coiled inside sprayer. Pull out and fully extend (approx 90cm).

3. Firmly insert hose tip until a click is heard

Note: Once sprayer is connected, transport upright as product may leak through the cap's breather hole.
Testimonials
What a pity you don't have a page for feedback because I'm giving this a 6/5 star rating. I thought my favourite product was Wet & Forget but this is fantastic!
I went all around my house and all the fences with it (I had a lot of cobwebs). 2 days later I went out to see how it all was going and couldn't believe my eyes. The spiders had gone but the spray had absorbed all the cobwebs as well.
It was then so easy to see the bits I had missed. I just finished doing a touch up and I'm so happy.
Thank you for this product and I hope you keep stocking it.