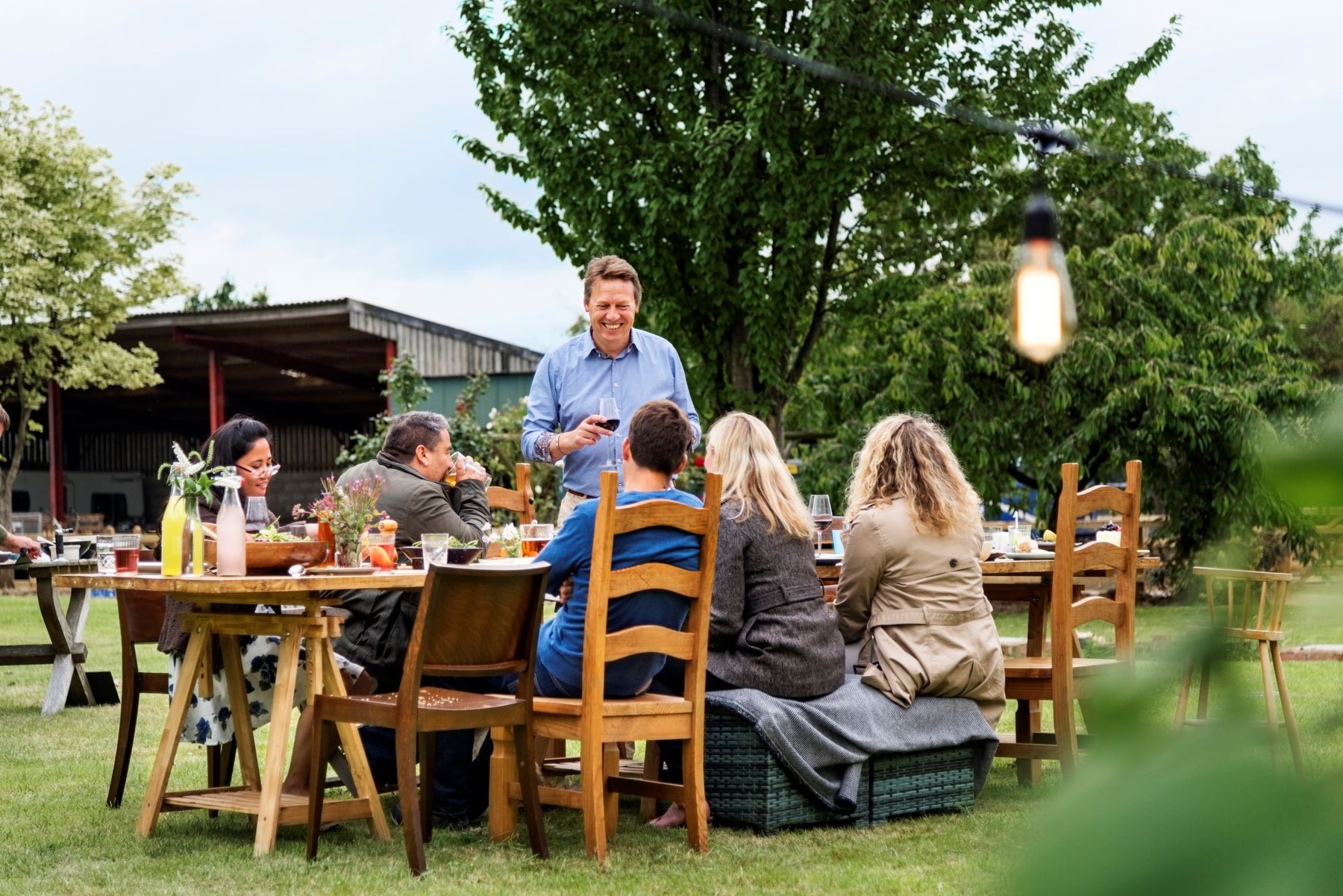 Are you entertaining over the holidays?
With the season of summer barbecues, Christmas get-togethers and planning for New Year's celebrations now well on the way, it's time to make sure your entertaining areas are looking spick & span!
Terraces, decks, outdoor dining rooms, pool surrounds and gardens all make perfect spaces for long, lazy lunches and dinners with family and friends. If you have some unsightly green algae on your sandstone pavers, or your beautiful timber deck has some black mould, maybe your outdoor furniture is looking a bit grubby or is your BBQ looking a bit worse for wear?
We have the answers to all of your cleaning needs!
Our Top 10 Surfaces To Clean
1. Entertaining Area
Wet & Forget is safe to apply to any exterior surface. This can be sandstone, bricks, pavers or tiles. Just spray and leave, and then over time the surface will come clean.
2. Timber Deck
Wet & Forget will remove mould off all timber and composite decks! If your deck is older and hasn't been cleaned in a while, apply the Wet & Forget, wait for a few weeks to a month then give the area a light brush with a broom or scrubbing brush with warm water to help remove the dead growth. The good news is that you should only have to do this once and then the maintenance becomes so easy.
3. Pool Surrounds
We recommend that you use Rapid Application for this as it's so easy to apply! Just attach your hose and spray!
4. Outdoor Umbrella
It doesn't matter if your umbrella is canvas or polyester! Just spray and leave, and then over time it will come clean. You can use Wet & Forget on your outdoor cushions and tarpaulins as well.
5. Outdoor Furniture
Wet & Forget is ideal to remove any algae or mould off your timber outdoor furniture. It's also great to use on Wicker, Rattan, Plastic, Polymer & Aluminium mesh furniture. Just make sure that you give the furniture and cushions a light hose before you sit on them again.
6. Pots and Planters
Suitable for any surface including terracotta, sandstone even plastic. If it's got moss or mould Wet & Forget will remove it.
7. BBQ
Do you have a build-up of grease and fat on your BBQ? Shower Witch is just what you need to make all your cleaning simple and easy. Not only is Shower Witch used for the Shower, it can also be used as an everyday spray and wipe. Simply spray the stainless steel surrounds of your BBQ and wipe it clean. If the build-up of grease and fat is thick and heavy, spray, leave it for 5-10 minutes and wipe it clean. If the build-up is extreme, a couple of sprays will help make it shiny and clean, looking like it's brand new!
To read more about alternative uses for Shower Witch, click here.
8. Pergola Roof
No problems, Rapid application is best for this job. Just attach your hose and spray! Wet & Forget and Rapid Application are PH 8, so they are safe for any roof surface including your pergola roof. 
9. Painted Surfaces/Eaves
Ever looked at your eaves and wondered how they became so dirty and mouldy? Again Wet & Forget or Rapid Application is safe to apply to any painted surface including your eaves. Just spray and leave, and then over time they will come clean!
10. Shade Sails, Plastic Blinds Or Roll Out Blinds
You can apply Wet & Forget to your shade sails, plastic blinds or even your canvas awning if there is any growth on them. Just roll out the awning and apply the diluted Wet & Forget as per bottle instructions. Make sure the awning is dry before you roll it back up again. Ideally it is best to leave the awning exposed to the weather for as long as possible to help the mould to decompose. Suitable for all types of awnings and annexes including acrylic, canvas and polyester.
To read more about each of the products mentioned above, click the corresponding link below.
Wet & Forget      Rapid Application      Shower Witch
__________________________________________________________________________